MyLifeJacket.org is just one more voice appealing to people to wear life jackets during water activities and, more importantly, encouraging people to seek or grow their personal relationship with God. Both lead to saved lives.
After reading my story below, you'll see why I believe so profoundly that it was the combination of an orange life jacket and faithful prayer to God that saved my life. One, without the other, likely wouldn't have spared me.
MyLifeJacket.org provides resource snippets about life jackets, water safety, prayer, and faith. If this website prompts someone to wear a life jacket when enjoying water activities or sparks someone to begin or enrich her/his faith walk, then my mission has been fulfilled.
My Life Jacket can be your Savior. In Water. In Life. For Eternity.
---
My Life Jacket
Author: Jim Bartelson
Fig Newtons & Fishing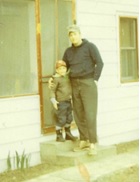 Fishing was one of my dad's greatest joys in life. And, rather than clean the garage one summer afternoon in the mid-1960's, he took me to nearby Diamond Lake to introduce me to his favorite pastime.
Since we didn't catch anything, I initially thought that "fishing" was simply sitting in a boat, dangling a worm in the water, talking with my dad, and eating fig newtons. Fish or no fish: I had a blast.
In the years thereafter, my dad and I caught plenty of fish on trips to Lake Geneva, Wisconsin Dells, and the Mississippi river. But, even at a young age, I understood the joy of fishing was really about the time shared together.
The Guy's Fall Trip
I was beyond thrilled when, in 1972, my dad invited me to join him for the guy's fall fishing trip. Then nine-years old, I remember feeling like I had just been called up to the "major leagues."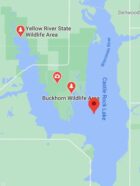 Early on October 13th, a group of close friends, neighbors, and some of their sons began the drive north to the Castle Rock Flowage in central Wisconsin. For me, the trip was already a huge success because I was able to skip a day of school!
Enroute, we stopped at our favorite breakfast spot, the Dell's Grill, where we joined up with Ken Graham, his son Jeff, and the rest of the crew. As it turns out, enjoying the golden pancakes, maple syrup, and sausage links was one of my last clear & complete memories of our adventure.
The Storm
From faint recollections and accounts from the other fishermen, I know day # 3 started with our 9.9 h.p. Chrysler outboard pushing our jon boat to a choice fishing spot across the lake. Our crew of three–me, my dad, and long-time family friend–Wally Meier–were in search of BIG walleye.
Mid-morning, the sun was out and it was a beautiful fall day. But, by late afternoon, winter-like weather arrived with cold winds and an approaching storm. So, the decision was made to call it a day and head back to the warmth of the cabin. Mother Nature had different ideas, however.
With the howling wind and cold rain at our back, my dad held me close to his side in the boat's second seat. We faced our captain, Wally, who was doing his best to safely navigate the increasingly angry waves. I really don't remember being too frightened at the time; but, I was really looking forward to being on dry land again.
Not long thereafter, we lost our battle with the churning lake as a HUGE wave quickly swamped our flat-bottomed boat. To me, it simply didn't make sense that we were now sitting up to our waists in what felt like ice cold water.
With events now registering in my mind as intermittent snapshots, I recall the boat flipping in the waves; but, continuing to float: bottom up. Wally lost his grasp of the boat and now only clung to a boat cushion as the waves & wind pushed him further and further from us.
With one hand, my dad clutched a boat cushion. With the other, he held onto me. Together, we struggled to stay atop of the overturned boat. But, the waves kept pounding us and eventually I was ripped from my dad's hold and drifted away.
An Orange Life Jacket & Prayer!
While I don't recall the details, I know my dad shouted to me as I was floating away. First, were instructions. Next, were reassurances. Lastly, he shouted to PRAY!
So, I did.
The words of my prayer are lost to me today; but, I know I prayed. I prayed fervently for my life and that of my dad and our friend, Wally. Of course, they reciprocated, as did our fellow fishermen on shore who were wondering where we might be.
Hypothermia soon took hold and I remember nothing of the rest of my time bobbing about alone in Castle Rock lake.
Search & Rescue:
As told to me later, nearby fisherman and local residents were the first guardian angels to assist us in our desperate time of need. Upon safely reaching shore, my dad & Wally were driven to the nearest home–in an age before cell phones–to call the authorities for help.
The Adam's county sheriff's department & civil defense department initiated a search & rescue for me, as reported later in the local newspaper. From what I was told, I was found floating in shallow water, by sheriff's deputy: Roger Ribdke.
Initially, I was declared dead.
But, sheriff and civil defense personnel–Raymond Sopher, Norman Stevens, and Wilbur Pare–administered mouth-to-mouth resuscitation for twenty-five minutes and restored my breathing. I was then quickly carried up a steep, sandy river-bluff toward a waiting ambulance.
Awaking at Adams County Memorial:
I awoke briefly in an emergency room to bright lights, pain from lake water being sucked from my body, and questions about playing cards. Sleep followed.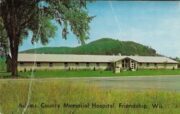 Mom arrived that next day delivering the hug of a lifetime.
The royal treatment from caregivers and joyous visits from family, friends, and fellow fishermen made me feel a bit like a celebrity. To be sure, I remember feeling profoundly loved.
Within a day or so, I was my nine-year old self.
Retrospective: Gratitude
Released to go home, I said a tearful good-bye to my medical team: Judy Kane, Judy Barbara, Dr. Simony, and Dr. Carl.
Before my dad, mom, and I drove home, we visited Raymond Sopher, who had broken his ankle carrying me up the sandy bluff. We shared some venison and re-told the events of the past several days. Then, more hugs, tears, and heartfelt thank-you's.
Looking back to 1972, I neither understood nor fully appreciated the role everyone–my dad, Wally, our fellow fisherman, the first-responders and the medical team–played in saving my life. They saved my life.
At the time, it simply meant that normal, everyday life resumed.
The missed school days now meant homework. Household chores to be done. "Celebrity" status over.
But now, decades later, I can see much more clearly that I received an invaluable gift.
For without everyone's care and prayer in October, 1972, I wouldn't be here.
Neither would be my three children. Or, the grandchildren expected before too long.
With each passing year, I find myself ever more grateful to everyone who helped to save my life, who prayed for me, my dad, and our friend Wally.
Above all, I give heartfelt thanks to God for having answered my prayers and the prayers on my behalf from so many back nearly 50 years ago.
God's merciful grace and an orange life jacket saved me.